"Discover Pokhara: A Scenic Gem of Nepal's Himalayan Gateway"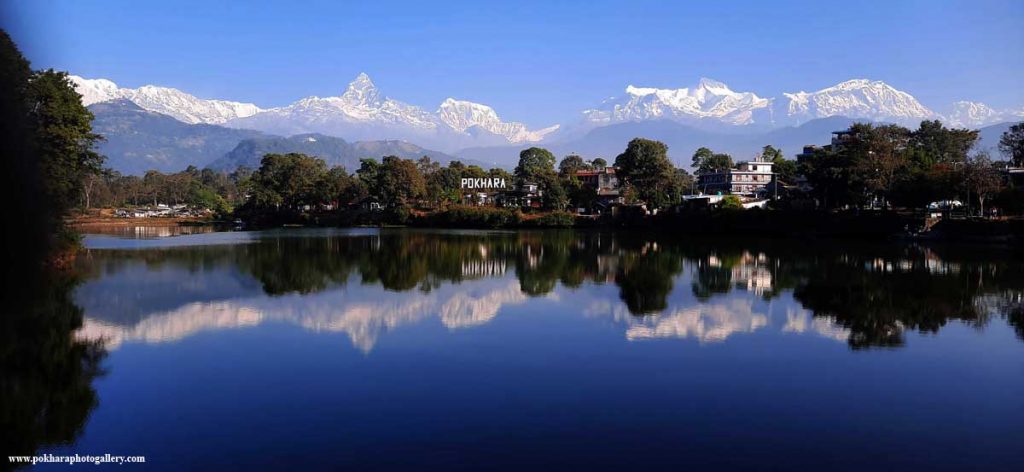 Pokhara -a beautiful city in Nepal, located in the western part of the country, is a breathtaking city renowned for its natural beauty and stunning scenery. Nestled in the foothills of the majestic Himalayas, it serves as the gateway to the Annapurna Mountain range, a popular destination for trekking enthusiasts from around the world.
The city's crown jewel is undoubtedly Phewa Lake, a picturesque body of water that captivates visitors with its tranquil ambiance and awe-inspiring surroundings. Surrounded by lush green hills and snow-capped mountains, the lake offers a mesmerizing backdrop for relaxation and exploration. At the heart of Phewa Lake lies the Tal Barahi Temple, an enchanting Hindu temple situated on a small island. Accessible by boat, this temple is an important pilgrimage site and attracts devotees and tourists alike.
Apart from Phewa Lake, Pokhara boasts numerous natural attractions that showcase the region's unparalleled beauty. One such attraction is the World Peace Pagoda, a Buddhist Stupa perched on a hilltop overlooking the city. The pagoda offers panoramic views of Pokhara, Phewa Lake, and the surrounding mountains, providing a serene and reflective atmosphere. Another natural wonder is the Seti River Gorge, a deep canyon carved by the Seti River. The gorge features a dramatic landscape with steep cliffs, and the turquoise river flowing through it creates a mesmerizing spectacle.
For adventure enthusiasts, Pokhara is a paradise. The city offers a wide range of adrenaline-pumping activities to satisfy the thrill-seekers. Paragliding is particularly popular, as Pokhara's unique topography and favorable wind conditions make it an ideal destination for this exhilarating sport. Visitors can soar through the sky and witness the breathtaking landscape from a bird's-eye view. Additionally, bungee jumping and zip-lining are available for those seeking an extra dose of excitement.
Pokhara also caters to those interested in the cultural and historical aspects of Nepal. The city is home to several museums and galleries that provide insight into the country's rich heritage. The Gurkha Museum offers a glimpse into the brave history of the Gurkha soldiers, known for their remarkable valor and loyalty. The International Mountain Museum is a must-visit for mountaineering enthusiasts, showcasing the history, culture, and biodiversity of the Himalayas.
When it comes to accommodations, Pokhara offers a range of options to suit different preferences and budgets. Luxury hotels like Hotel Pokhara Grande provide top-notch amenities and services, including high-end restaurants, spas, fitness centers, and conference facilities. These establishments offer a lavish and comfortable stay, but they come at a higher price point.
Boutique hotels such as Hotel Barahi offer a more intimate and personalized experience. These hotels often have unique themes or designs, providing guests with a distinct atmosphere. While boutique hotels may have fewer amenities than luxury hotels, they compensate with their charm and attention to detail.
For budget-conscious travelers, Pokhara offers several affordable accommodations, including lodges and guesthouses. The New Pokhara Lodge, for example, provides comfortable and convenient lodging options at a reasonable price. These budget accommodations may not offer the same level of luxury as higher-end options, but they provide a comfortable base for exploring the city and its surroundings.
Transportation in Pokhara is easily accessible and varied. Taxis are readily available and offer a convenient way to get around the city. Local buses are an affordable option for traveling longer distances within Pokhara and to nearby towns. Additionally, motorbikes, scooters and bycycle can be rented from various agencies, allowing visitors to explore the city and its outskirts at their own pace.
In recent years, the use of ride-sharing apps has gained popularity in Pokhara. By downloading apps such as Patho and Indrive and having a local mobile SIM card, visitors can avail themselves of fair-priced rides and navigate the city with ease.
In conclusion, Pokhara is a truly captivating city in Nepal that showcases the best of nature, adventure, and culture. With its stunning lakes, majestic mountains, and serene temples, it provides a perfect blend of relaxation, exploration, and excitement. Whether you seek outdoor adventures, cultural experiences, or a peaceful getaway, Pokhara offers an unforgettable experience for all who visit.
Things to know:
1. Pokhara: A Scenic Gem in Nepal's Western Region
2. Phewa Lake: Tranquil Beauty in the Heart of Pokhara
3. Natural Wonders: Seti River Gorge, Devis Fall, Gupteswor Cave, Mahendra Cave
4. Adventure Capital: Paragliding, Bungee Jumping and Zip-lining
5. Cultural Delights: Regional Museum, Gurkha Museum and International Mountain Museum
6. Accommodation Options: Luxury, Boutique and Budget Hotels in Pokhara
7. Transportation in Pokhara: Taxis, Buses, and Motorbike Rentals
8. Patho and Indrive: Convenient Ride-Sharing Apps in Pokhara
9. Pokhara's Allure: Himalayan Foothills and Annapurna Trekking Gateway
10. Unforgettable Experiences: Nature, Adventure, and Culture in Pokhara
---
Pokhara offer different types of Hotel, Motel, Resorts, Lodge, B&B, Inn, Guest House, Hostel, Home Stay, Cottage, Cabins, Flats, Apartments, Bed and Breakfast, Vacation Rentals for tourist and visitors.
Lakeside | Khahare | Damside | Prithivi Chowk | Mahendra Pul | Sarangkot | Pumdikot | New Road | Srijana Chowk | Baglung Bus Park | Amarsingh Chowk | Chorepatan | Bagar | Kahun Danda | Contact us